"How can our kids really understand the moral complexities of being alive if they are not allowed to engage in those complexities outdoors?" -Richard Louv (Last Child In the Woods)
Therapeutic Benefits of Recreation
The therapeutic benefits of teenagers spending time together in the outdoors come down to one word– "connection." So often in today's society, children's daily activities are supervised and structured from the moment they awake to the moment they go to sleep at night. When parental supervision is not possible, television and computers act as supervisors. This can leave little time for the benefits of deep connection and an actual relationship. Children go from one structured activity to the next, taking little time to actually be kids, to gain all of the potent insights that come from simply playing together.
At Fire Mountain, we believe that recreation and time in nature are essential to healthy development. Children in the outdoors learn from personal experience through taking chances and learning first hand from their own behaviors, choices, and decisions.
Many therapeutic interventions take place on the extensive grounds of the 44-acre mountain property of Fire Mountain and offsite. We incorporate nature-based recreational activities and field trips to teach teamwork skills, self-confidence, and self-efficacy. The outdoors also helps to provide a sense of relationship to place, a deeper connection with ourselves and the world we inhabit. Through recreation and adventure based activity we begin to grow and learn together. Also, it's lots of fun!
Equine-Assisted Therapy Makes Lasting Connection
"I've often said there's nothing better for the inside of a man than the outside of a horse." -Ronald Reagan
Equine-assisted learning and therapy continue to grow swiftly as a conventional therapeutic modality that seeks to attend to educational and therapeutic issues beyond the typical confines of "talk therapy". As humans, we have a deep, long-lasting symbiotic connection with horses. This connection to horses is almost as old as mankind itself. Horses attune to human beings on a deep emotional level; neurologically this attunement is known as "Limbic Resonance."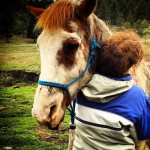 Through equine-assisted learning and therapy, clients learn to attune to their own emotional states and the emotions of others. Increasing their emotional awareness, clients learn to work with strong emotional content in themselves and those they care for. Time spent with horses teaches clients specific skills that will help with setting boundaries with others, understanding strong emotions and empathizing with the emotions of family and other loved ones.
Every teenager that stays at the teen residential treatment center spends some time in nature and with horses (equine program held at Medicine Horse). These activities are an important part of the teen rehabilitation program at Fire Mountain.
"…your program gives them the tools to help guide them in the right direction." -Susan, Jim & Adam