Therapeutic Benefits of Recreation
The therapeutic benefits of teenagers spending time together in the outdoors comes down to one word– "connection." So often in today's society, children's daily activities are supervised and structured from the moment they awake to the moment they go to sleep at night. When parental supervision is not possible, television and computers act as supervisors. This can leave little time for the benefits of deep connection and an actual relationship. Children often go from one structured activity to the next, taking little time to actually be kids, lacking the ability to gain all of the potent insights that come from simply playing together.
At Fire Mountain, we believe that recreation and time in nature are essential to healthy development. Children in the outdoors learn from personal experience through taking chances and learning first hand from their own behaviors, choices, and decisions.
Many therapeutic interventions take place on the extensive grounds of the 44-acre mountain property of Fire Mountain and offsite. We incorporate nature-based recreational activities and field trips to teach teamwork skills, self-confidence, and self-efficacy. The outdoors also helps to provide a sense of relationship to place, a deeper connection with ourselves and the world we inhabit. Through recreation and adventure-based activity we begin to grow and learn together. Also, it's lots of fun!
"If we help heal the animals, Mother Earth will begin to heal, and when this occurs, the people will remember many things they have forgotten; those sacred spaces and places we once called home. This can only bring good into our lives and the lives of others"
Song of the Wolf Healing Center is a non-profit organization for abused, unwanted, confiscated, and surrendered wolfdogs. Song of the Wolf focuses on healing the animal-human bond through educational workshops, volunteering, and animal-assisted therapeutic activities.
Clients begin their time at Song of the Wolf by completing various community service projects, which directly support the animals within the 
center. Some of the projects the kids have completed in the past include helping to build fences and trails around enclosures as well as mulching certain areas of the property.
In addition to these projects, teens engage directly with the wolves. Two to three clients enter a wolf enclosure at a time and have a chance to hand-feed the wolves. It is up to the wolves if and how much they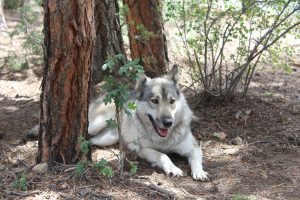 would like to engage with the children on any given day. To conclude each session, Mary Ann, a co-owner of the center, leads a brief therapeutic group with the kids. During this time they have a chance to reflect on their experiences with the wolves and apply these to the greater scheme of their lives.